BREAKING NEWS
Amache sustains major hail damage on July 29, 2018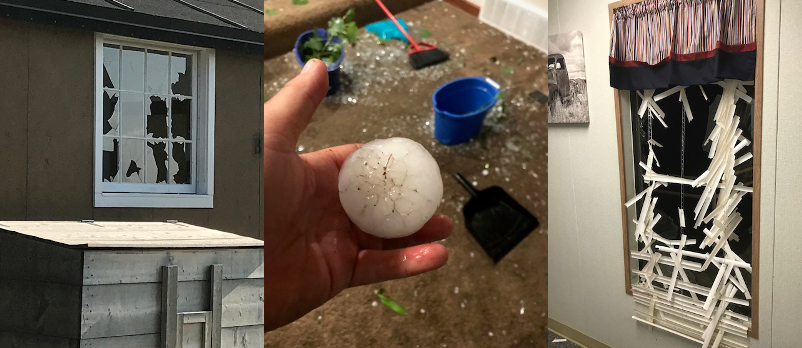 A hailstorm on July 29 delivered baseball-sized hail driven by 70 mph winds, resulting in damage at the Amache site, research center, and other buildings/structures in Granada. The barracks building on the Amache site lost 65 of its small-pane windows and damage to the water tower and guard tower is still being assessed. Amache Preservation Society has been working hard to secure the buildings, but needs funds to repair the damage; so far, estimated costs are already over $3000. We would be grateful for any funds to help restore the site. You can send tax-deductible donations directly to the Amache Preservation Society or through our PayPal Donate button.
Upcoming Events
Stay tuned for more information!

News
Smithsonian Institution is Collecting Stories of Incarceration

Do you have a keepsake that reflects your family's experience with the Japanese American Incarceration? The Smithsonian's National Museum of American History is partnering with American Public Media Reports to launch a new podcast series "Order 9066." To learn more and contribute your stories, visit APM's submission page.
Sonoma State University Hosts Special Collections for Amache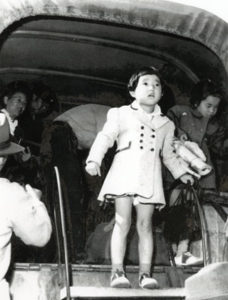 Sonoma State University's Camp Amache Digital Collection features photographs of daily life at the Amache Relocation Center in Colorado, home to over 7,000 interned Americans of Japanese ancestry during World War II, many of them from the North Bay. Sonoma State University Professor Emeritus Robert Fuchigami was an internee in the Amache Relocation Center and wrote the descriptions for each of the 171 items in the Collection, which began as a grant-funded project and part of the University Library's North Bay Ethnic Archive. The collection can be accessed online.

DU's Archaeology Field School Honored by Society for Historical Archaeology
The DU Archaeology Field School was recognized for promoting diversity in the discipline at the Society for Historical Archaeology conference in January, 2017. The field school is typically offered every two years (in even years) and is a four-credit undergraduate level course for students interested in archaeology, museum studies, or history. High school internship and volunteer opportunities are available for those with family ties to the site. A Community Open House for those with personal or family connections to Amache and a Public Open House open to everyone are held each season. Congratulations, Dr. Bonnie Clark!
First Five National Japanese American Memorial Foundation Student Videos Released
The National Japanese American Memorial Foundation's Digital Storytelling Project trained high school students in video production to tell stories of the 10 internment camp sites. The first five videos are now available on the NJAMF website. Amache's digital story was produced by Halle Sousa, who participated in DU's 2016 Archaeology Field School. Check out Halle's video.
Smithsonian National Youth Summit on Japanese American Incarceration Now Available
The Smithsonian's National Museum of American History and the Japanese American National Museum held a National Youth Summit on Japanese American incarceration in World War II on Tuesday, May 17, 2016 from 1–2 PM EDT. The recording of the full webcast is now available on the Smithsonian's website.
Oral History Project Seeks Ghost Stories from Internment Camps
The Minidoka Ghost Stories project is seeking stories of ghosts, hauntings, and the strange from the imprisonment of Japanese Americans during World War II, and is an opportunity to hear and to share a unique aspect of the internment experience. These stories not only provide an alternative inroad to Japanese American history, but also, in the analysis of their telling, provide insights into our culture, our values, and our legacy. Though Minidoka is specified in the project's title, they are interested in hearing stories associated with ANY of the camps. To learn more about the project or to contribute, visit the project's facebook page or contact them at minidokaghoststories@gmail.com.
Museum exhibit on Amache available to travel!
A student and community curated exhibit, Connecting the Pieces: Dialogues on the Amache Archaeology Collection is now available to travel. Connecting the Pieces features objects from the DU Amache Research Project that help tell the story of Japanese American internment during World War II. Interested in bringing the dialogue to your local museum, library, or community center? Download the flier or contact Anne Amati for more information.
Save